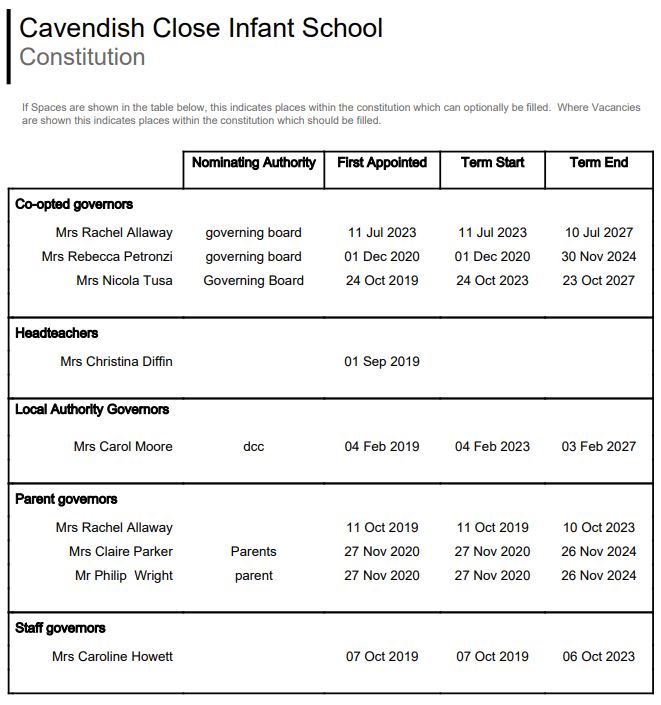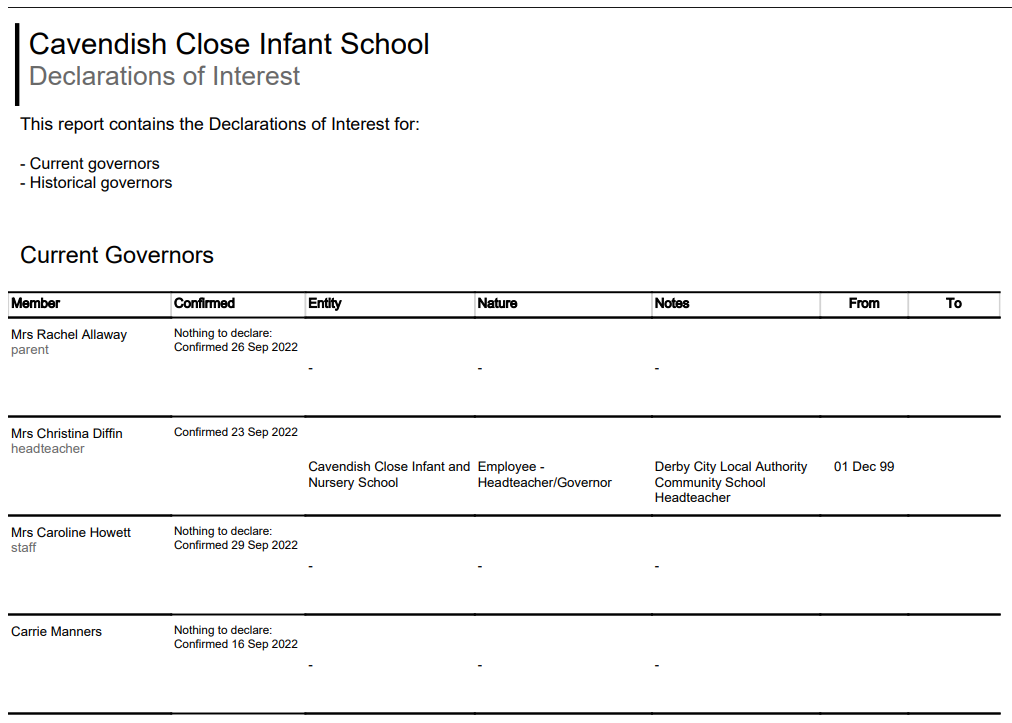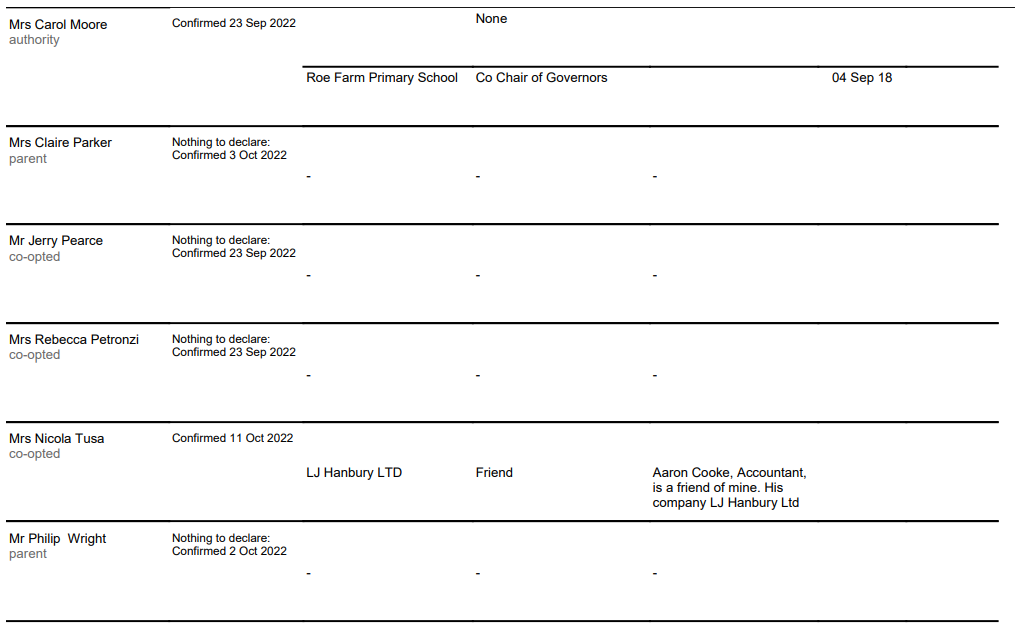 Our Governing Board
Carol Moore:
Hello. My name is Carol Moore. I am married with two grown up children and have lived in Derby most of my life.I have recently retired as a Primary School Headteacher. I thoroughly enjoyed my job and loved working with children and their families, helping and supporting them in making a positive difference to their lives. I enjoy meeting people. I volunteer at our local church Toddler Group. I like to spend my time walking, reading, gardening and meeting up with friends. As a new member of the Governing Body of Cavendish Close Infant and Nursery School, I am keen to offer my knowledge and experience and support the school in any way I can.
Rachel Allaway:
Hi, I am Rachel Allaway and I became a Parent Governor in Autumn 2019, before staying on as a co-opted Governor July 2023. I am a Primary School Teacher and have been working in schools Full-Time and Part-Time since September 2001. I have had experiences in the Foundation Stage, Key Stage 1 and Key Stage 2. Since starting my teaching career, I have held a number of roles and responsibilities, which include PE coordinator, Year group leader, Pupil Premium lead and student and volunteer mentor.
I have lived in and around Chaddesden for over 30 years and now live nearby with my husband and two wonderful children. My son is currently in Year 1 and my daughter attends a local Nursery 1 day a week.
I feel excited and privileged to be a part of such a thriving school that offers exciting, nurturing and thought provoking experiences to children from many different backgrounds. I am passionate about helping young children to believe in themselves and achieve well in their bright, ambitious futures.
Caroline Howett:
Hi, I am Caroline Howett. I began my teaching career in 1994 in Liverpool and moved to Derby after meeting my husband. I have taught at Cavendish Close Infant School for 16 years and have recently taken on the role of Interim Deputy Headteacher.
I am passionate about providing quality education for our very youngest children and enjoy building relationships with families when they first come to our school. I have supported other early years settings across Derby City to reflect on and improve their practice particularly around speech, language and communication and physical development. I am currently a Talk Derby Champion for the Derby Opportunity Area.
I enjoy being active and spending quality time at home with my husband and two children as well as visiting my family in North Wales.
I am so proud of our wonderful school and feel privileged to be part of our school community. I am committed to being an effective governor and sharing in the strategic leadership of the school.
Nicola Tusa:
Introduction to follow.
Claire Parker:
Hi, I'm Claire Parker and I'm a newly appointed Parent Governor. I have lived in Oakwood for the past 20 years and now live with my husband Chris and our 2 children. Our daughter has just started in Reception, and our son attends a local nursery. I work for a brewery in Burton-upon-Trent, which I love. I qualified as a Chartered Accountant 16 years ago and now work in a more commercial role. In my spare time I enjoy spending time with my family, cooking, reading and walking.
This is my first experience of being a Governor and I feel privileged to have been given the opportunity. I am excited to be able to play a role in the school community and work hard to give our children the best education. I hope that the passion and dedication that I can bring to the role will help the school continue to excel.
Philip Wright:
Hello, I'm Philip Wright and I'm a new Parent Governor. My wife and I moved to Derby in 2010 and we have a daughter who has just started in Nursery.
I work as a Service Desk Manager for a multinational software company based in Castle Donington. In my spare time I enjoy theatre, playing and listening to music, exploring new technologies and spending time with my family.
I'm thrilled at joining the Governing board and look forward to being involved in the community and supporting our school, the staff and the children.
Rebecca Petronzi:
Hello. My name is Rebecca Petronzi and I am a Lecturer in Education at the University of Derby. I am a qualified primary teacher and taught at Cavendish Close Infant and Nursery school for four years before beginning my current role in training new teachers. I work with various schools across the region and am actively engaged in academic research. Within the UoD's Primary Teacher Education department, I am the subject leader for English. I have a particular passion for early reading and systematic synthetic phonics. I am currently working with Derby Book Festival on a diversity through literature project which is supporting to 'decolonise the curriculum'.
I am thrilled to be able to support the school in continuing to grow and develop. I know from experience the hard work that goes on behind the scenes to help every child succeed and thrive – I feel very privileged to be able to serve as governor and hope to support the strategic vision of the school.
Attendance Record at governing body and committee meetings for the last academic year: 
Committee Information:
Resources Committee:
Mrs Parker (Chair), Mrs Moore (Vice-Chair), Mrs Howett
Curriculum Committee:
Mrs Allaway (Chair), Mrs Petronzi (Vice-Chair), Mr Wright
Diversity is important and we want our governing board to be increasingly reflective of our school community.