Advice on Coronavirus:
The Department for Education launched a new helpline to answer questions about COVID-19 related to education.
The current guidance states that if you have EITHER a new continuous cough, OR a high temperature then the whole household is to self isolate for 14 days.  Please let school know if you are self isolating, and ensure it is for the full 14 days.
Staff, parents and young people can contact the helpline as follows:
Phone: 0800 046 8687
Email: DfE.coronavirushelpline@education.gov.uk
Opening hours: 8am to 6pm (Monday to Friday)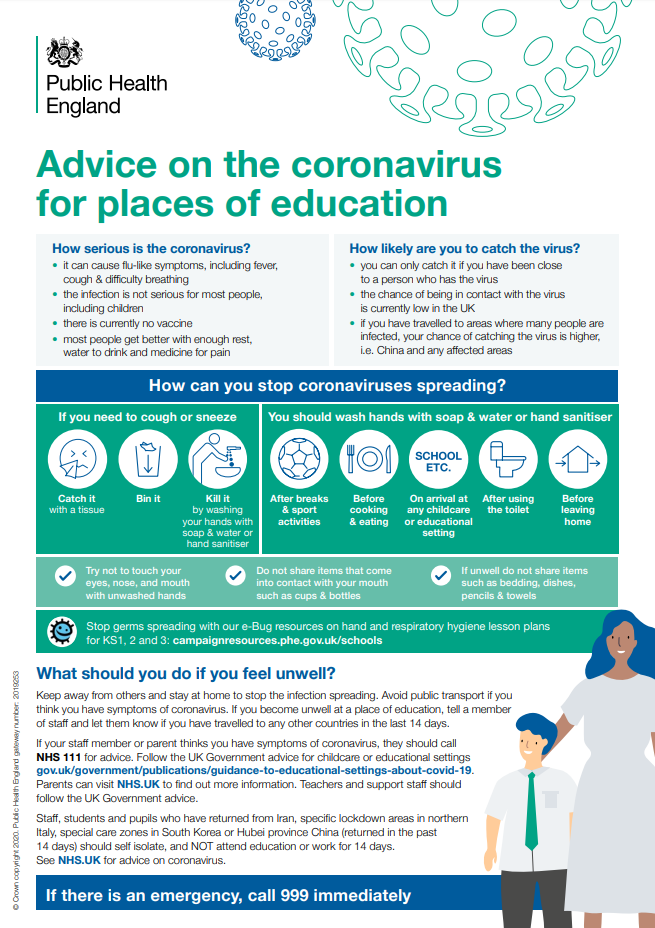 Illness:
If your child has been unwell during the night or early morning please do not send him/her to school for at least 48 hours, so there is time for recovery and to stop infections spreading to other children and staff.
Parents are asked to let us know by telephone when children are absent from school due to illness.
If the absence is longer than 2 days parents should send a note with the child on their return to school, giving reasons for the absence. If no reason is given the absence will be recorded as an unauthorised absence.
This helps to avoid misunderstandings on our part and ensures the safety of your child. We, also, are required by law to keep records of absences and unauthorised absences and therefore need your help to do this. Our learning mentor is required to enquire about absences so that records can be kept up to date.
Please let us know if you need to take your child out of school for a Dental or Hospital or Doctor's appointment, the time of collection and return to school. This is particularly important if you wish your child to have a dinner.
Where possible we ask that parents make dental and medical appointments after school hours or in holiday times to avoid disruption to learning. Any parent needing to collect a child during the day must first call at the School Office so you child can be signed out in the log book. If you later return your child they must be signed in again before returning to class.
We now have a text messaging service so that we can contact all parents quickly and easily. If you change your mobile 'phone number it is essential that you let us have the new number. If we don't you will not receive any text messages, which may be about school closures or other events affecting your child.
Guidance on Infection Control in Schools and Other Childcare Settings
Holidays:
The school is not allowed to authorise absence during term time for family holidays except in exceptional circumstances. If parents choose to take holidays during term time, the absences will be unauthorised, and parents could incur a fine of £60 per week, per child, per parent.  You can download the form here: Application for Leave of Absence.
If you feel your case is exceptional please discuss it with the headteacher.
The Education Welfare Service regularly monitors our attendance figures. Any child with a high absence rate will be monitored and EWS will contact the family to encourage a better rate of attendance at school.
Your Child's Welfare:
We have concern not only for educational, but, also, for social and welfare matters. All staff are willing to help children when they are unwell or upset. We will take appropriate steps to care for a sick child if the parents cannot be contacted, but it is important for you to give us up to date telephone numbers and as much information as possible if you are away at work all day, or if your child is suffering from any particular problem so that we can contact you in an emergency.